Use These 9 Ideas to Create Car Travel Routes Around Provence (Including Lavender Fields, Cozy Villages & Verdon Gorge)
What to do in Provence when on a road trip? Oh, where should I start? I've been to the region more than once…
…okay, more than twice…
…it's three! Three times in my life I was able to travel to Provence by car. I'm talking about a 2,615 km drive (1,624 miles) from Kyiv to the South of France. Naturally, it was not a direct sprint. I did make stops on the way. It would've been too exhausting to cover this mileage non-stop. This is not an easy ride, too, but it is so worth the time.
Total of 15, 690 km for a Trip to Provence? Really?
Really.
During my first visit, I was not really prepared. It was in January. I was happy to escape winter in Kyiv, and my main focus was on Cote d'Azur. Winter in Southern France is lovely, but it makes you wonder what does it look like when everything blossoms?
So, I promised myself I would come back in summer. But not for lavender, of course. Whoever needs that touristy and overrated Valensole? I'd wait until late August, I was persuading myself. I'd come when it is still warm, but not as crowded as in July. And so I did, booked a good apartment in Aix-en-Provence. And while touring Provence by car, I almost accidentally drove myself into Valensole.
All of the flowers had already been cut, and all that was left of the purple blossom were clusters of brownish-green stems with lonely small flowers here and there. Few of these sporadic lavender bud survivors were still enough to fill the air with the one-of-a-kind sweet aroma.
It smelled so good it was almost hard to believe that it was for real. So I stopped, got out of the car, and I found myself wandering around the fields, looking… desperately looking for more lavender (hopeless, of course, as the season was already over). At that point, I already knew – I will have to travel to Provence once more. And when I do, I will not miss the lavender blossom!
I can't claim that these numerous comebacks put me in the position of an expert Provence travel guide. I did, however, have enough time to figure out some really convenient travel-by-car routes that cover some of the major Provence attractions.
These are killer routes. Trying to complete all the stops in one day is almost impossible. For instance, Verdon Gorge and Lac du Saint Croix are so overwhelming that they can easily take the entire day. I recommend using the list of stops as an inspiration. Hopefully, this will be of any help for those of you putting together a Province road trip travel itinerary.
Day 1: Head to Haute Provence
First thing's first – Provence is huge! It stretches from the Rhone river west to the Italian border, and south – to the Mediterranean sea. It covers several regions, including mountains of Haute Provence, and the blue coastline of the French Riviera.
The entire region is worth exploring, but it also requires time and meticulous planning. Traveling by car is relatively fast when it comes to Cote d'Azur. The area has high ways that connect the cities and allow driving at a higher speed. When exploring the Haute Provence, Luberon valley, and other regions, it makes more sense to take the local roads. This means lower speed limits, serpentine roads, and lots of roundabouts.
The entire area is absolutely gorgeous. The scenery changes dramatically. You will find yourself driving through small and postcard-like centers of all the iconic villages and towns, as well as though the lavender fields and the mountain area with its ochre-colored hills and small trees. There will also be a moment when you'll hold your breath and feel that itch in the stomach on one of many turns of the old serpentine Crete Road in the Verdon Gorge.
This is the map of the route to take around the area.
If you prefer slow traveling, it might be a good idea to plan a stop for the night at any of the villages. This will depend on how deep you manage to get into the Haute Provence. If you have the luxury of time, it is a good idea to pick a place to stay at throughout this Provence vacation, while taking daily trips.
What to Do In Provence: Pick Aix-en-Provence As the Base to Travel the Area
There are two options if you want to make the most out of your trip. You can make your way through the region, staying in hotels and apartments of the towns and villages along the way. Also, you may pick one or two sort of headquarters to be in and return to, while exploring the area.
During all of my trips, I found the latter the most convenient variant. I booked an apartment in Aix-en-Provence. This allowed for a balanced trip – a day on the road, a day in town, then a day on the road again, and a day in town, and so on.
When it comes to picking where to stay in Provence, the choice is usually between Aix-en-Provence and Avignon. Of course, there is also Marseilles to take into consideration, as well as any of the smaller towns – Gordes, Roussillon, Cavaillon, Nimes, but in my case, these were either too small for a prolonged stay, or too hectic, as it is with Marseilles.
After careful considerations, I chose Aix-en-Provence over Avignon due to its Mediterranean charm, a fair share of attractions, and smaller chances of getting stuck in traffic on the way in and out of the city.
There are lots of things to see and do in Aix-en-Provence. For starters, living downtown means being able to take a lovely morning promenade to any of the local bakeries and pastry shops for some freshly baked pain au chocolat or a croissant.
The town is also famous for its Cours Mirabo – a central alley lined with plane trees. We loved having our evening glass of wine in either of many cafes hiding in the shadows of the trees. The street also hosts plenty of local vendors selling all things Provence – lavender-scented products, sweets, and souvenirs.
Aix-en-Provence is also known as the city of A Thousand Fountains. These are scattered around its old town area. During one of our stays, my friend devoted an entire day to a quest. She decided to find and photograph as many of these fountains as she could.
One of such, Fontaine d'Albertas is a central element of Place d'Albertas, one of the must-sees when visiting Aix-en-Provence. This elegant square and its buildings were once headquarters for the most influential aristocratic family of the area. Today, it is a place where locals enjoy their food during the lunch hour, and many musicians come to play in the evening.
Another lovely fountain that you will not miss is Fontaine de la Rotonde. It is located right at the heart of the city. The fountain marks the entrance to the old town and stands by many local shops, bakeries, and cafes.
Aix-en-Provence is a perfect town to explore by feet. Walk past the town hall and an old tower straight towards the Aix Cathedral. Wander among the small and cozy streets of the town, or explore the local markets. If you are a foodie, these are to die for. Provence is known for its cantaloupes, candied fruits, herbs, calissons, and other products.
Enjoy the Panorama of Gordes
To be able to do this, take A8 highway to Cavaillon, and then the D15 route. As you approach the town, there is a convenient stop near Bel Air rock. There is no way in the world you can miss it. First of all, there will A) probably also be some other cars parked and tourists taking pictures, and B) this is a panorama that is just RIGHT THERE, and it is breathtaking.
What to do and see in Gordes, France? There are oh so many things. You can explore the Tuesday market, head to the church, or simply walk the streets of this popular town and enjoy some lemonade in one of its cafes. If you come in summer, we would definitely advise scheduling Gordes for either morning or evening because. It is a town on the hills, which means a lot of uphill walking. In the summer heat of the day, this can be quite a challenge.
Have Lunch Near Senanque Abbey
This is probably one of the most popular postcard views of Provence. A trip to the Vaucluse region would be incomplete without it, so we highly recommend putting it on the Provence road trip itinerary. Not far from Gordes, there is this secluded yet very popular Senanque Abbey. This is an active monastery with its two lovely lavender fields and a gift shop. In it, you can get some of the local lavender products.
The Abbey itself dates back to the 12th century. For the location to survive in the modern economy, the monks turned it into a business. In addition to being able to buy some of the local lavender or honey goods in the souvenir shop, you can also get a paid tour or stay for a retreat.
One of my most precious memories about Provence is actually from the Senanque Abbey. My first trip was during the times when the lavender was already cut. But instead of being disappointed that we missed the purple beauty blossom, we took a blanket out of the trunk of our car, sat on one of the hills above the parking lot and had a lovely picnic with the view of the Abbey.
We were not in a rush. We did not have a complex itinerary to complete. It was a spontaneous decision to just press pause and to enjoy the moment. As I was sitting there, looking at the old building and chewing on my sandwich, I remember thinking: "This is so peaceful."
Hike the Roussillon Ochre Trail
Located only 13 km (8 miles) from Gordes are the ochre cliffs of Roussillon. This is one of France's most colorful hiking experiences. Just imagine former ochre deposits with orange trails winding among red, yellow and orange cliffs, earth pillars, and hillocks.
I would not recommend wearing white shoes on this hike. Also, be ready to stand in a long ticket line if you arrive at the Roussillon canyon in the high season. If you are after pictures where there's only you and this overload of color, then you will need to wake up early. By 10-11 am, the area gets crowded.
There are two ways to explore the Ochre Trail or Le Sentier des Ocres. A shorter version takes around 30 minutes, and you should reserve up to 60 minutes for the longer one. Both hikes are fairly simple and require convenient shoes, a hat and a bottle of water, as well as sunscreen, or better yet – covered shoulders if you are here during summer.
Depending on whether you want to visit a conservatory afterward, the ticket will cost either 2.50, or 7.50 Euros. It is not hard to find parking (all paid) near the trail. After the hike, you can also explore the town. Though not a place of many historic attractions, it is a very authentic place suitable for walks.
Stop at Apt for Its Candied Fruits
Located in close proximity to Roussillon is Apt. This is a small Provencal town with navigation traditional to most of the villages and towns in the region. There is an old square, the town hall, and cute cafes.
You can either drive through or stop for coffee and shopping. Provence is known for its cuisine, and there are regions specializing in certain products. You'll find the sweetest cantaloupes in Cavaillon, the balmiest truffles in and the biggest market for those in the village of Richerenches, and the best calissons in Mont de Ventoux. Apt's specialty is candied fruits.
Regardless of whether you stay in Provence, you will most definitely see them in the local confectionaries, so there may be no need to go to Apt just for them. But here's some history for those who want to pay a visit. Preserving fruits – figs, cherries, and apricots – was first a small initiative carried out by a number of families. As the locals mastered the art of preservation, however, the region became more and more popular.
The process of turning fruits into the candied ones requires putting them into a sugar syrup boiled to 130 C (266 F), then cooling, and repeating these two processes time and time again during weeks and even months.
Tasting candied fruits, just as tasting cheeses, comes with certain recommendations. Start degustating fruits with delicate flavors first – figs, cantaloupes, apricots, and save stronger citrus flavors for last.
Indulge in the Lavender of Valensole
The best time for visiting the lavender fields in Provence is between June to the first week of August. There is a convenient interactive map of fields supported by the Provence Department of Tourism. Much depends on the weather that may change from summer to summer.
To escape the crowds, it is probably a good idea to go before mid-July. Head towards the field located between the villages of Saul and Mont Ventoux. Without any doubt, Valensole is the best place to see lavender in Provence in July.
In addition to taking pictures of the fields, you can also book a visit to the lavender distillery. This is a great way of meeting the local growers. Another good idea is to get a room in a hotel in the village and spend the night in close proximity to the fields and their indescribable aroma.
Relax by the Lac du Sainte-Croix
As you approach the Regional Natural Park of Verdon, you will not miss this big lake with its clear blue water. On my first Provence road trip, I saw it from atop the road, when coming down from the serpentine road of the Verdon Gorge. Looking at it, I desperately wanted to go for a swim, but by that time I've already been driving for many hours, and it was already sunset, and I still had a long way to go.
So, I made myself a promise I would carve out a couple of hours on my next Provence road trip and will include the lake in the itinerary. So I did, and I did not regret doing that. There are two parking lots near the lake. One, on the upper road, is free. It is slightly inconvenient, as you will need to walk up and down the road to get to the car. The second parking, a paid one, is right by the lake.
The lake invites you to go for a swim, rest under the old big trees, rent a boat or a catamaran. The small town of Sainte-Croix, of course, has lots of places to stop for food.
Hold Your Breath at the Verdon Gorge
Aaah, this is a drive to remember. Gorges du Verdon, and especially its Crete Route is one of many most favorite serpentine roads ever. It slowly climbs up, leaving you breathless and speechless at each of the turns, as the road opens mesmerizing panoramas.
Upon reaching the top, you will be able to enjoy a gorgeous view of the Grand Canyon of France – the river valley with its Verdon river stubbornly cutting its way through the mountains.
You can either drive through the gorge or take a circular Route des Cretes – an old road that leads to the panoramic views. For this, turn to the road marked D23 from the D952 road. The road is for skilled drivers, as it is more steep and narrow and often has no side barriers.
The route welcomes campers, motorbikes, and hikers.
Spend the Night at Moustiers Sainte-Marie
Dubbed the most picturesque village of Provence, it is hidden in close proximity to Gorges du Verdon. If you include all of these or most of these stops into your Provence travel itinerary for the day, by the time you reach the Verdon area, it will already be rather late. Spending the night (and the next day) at Moustiers Sainte-Marie may be a good idea.
Nature with its cliffs, torrents, rivers, and cascades makes the most of the village's scenery. This is a perfect place to stay in the heart of Provence.
What to Do in Provence when on a road trip? FAQ
Aix-en-Provence vs. Avignon? Which is the best town to stay in?
This really depends on so many factors. I can not be very objective as my real experience covers only life in Aix. My information about Avignon is based on research and feedback from other travelers. On the other hand, there are a lot of comments online praising Avignong for being a better base due to a bigger amount of attractions to see, and for better housing and logistics.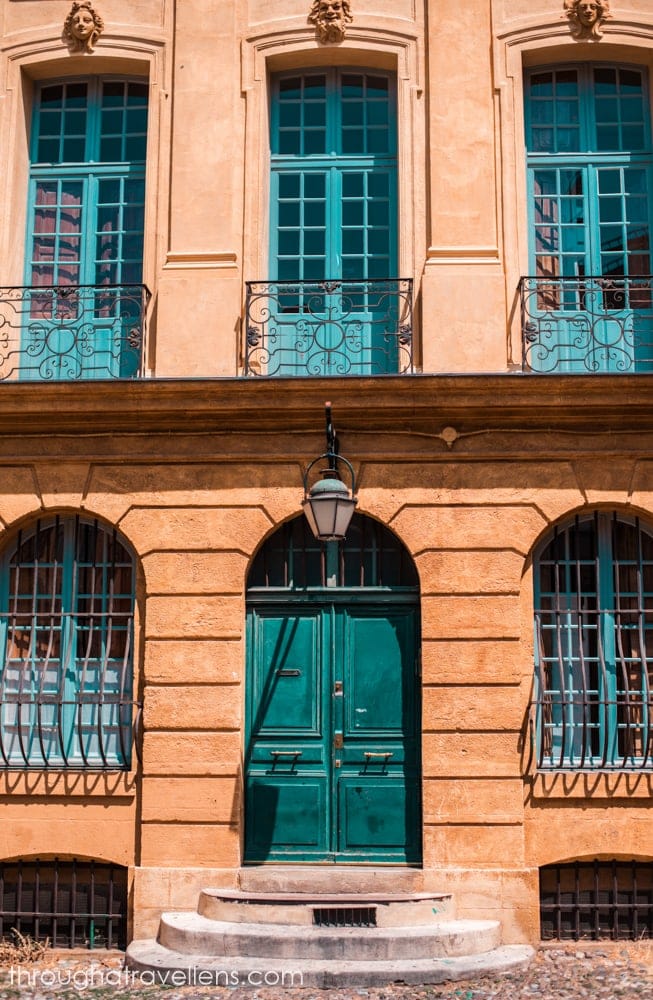 I personally am considering renting a place in Avignon for my upcoming trip in autumn, on a mission to explore Marseilles-Calanques-Camargue. I will then share my observations and update this section.
Is traveling in Provence by car the only option?
I honestly can't imagine how to properly explore this area without renting a car. Surely, there are local regular buses, such as the one from Avignon to Pont du Gard in Nimes, for instance. However, these will not drive through some of the very lovely villages. This goes to the rest of the regular bus routes, too. It will always be a game of compromise.
There are, of course, private tours, which can be a solution. I've discovered NAMES of TOURS. But I would also appreciate it very much if any of you could share your personal experience of exploring Provence without renting a car. This will be useful for this traveling community.
What is the best season to visit Provence?
Somewhere between May to June, as well as between mid-August to mid-October is when the weather is very welcoming. It is also the time to visit if Calanques or Camargue is on your wishlist. For lavender, though, you'll need to be ready to take some heat as the flowers are at their fullest bloom from the end of June till the end of July.
What are some of the noteworthy locations/tips not covered in this publication?
When researching Provence attractions, I did have to eliminate some from my to-do list. There are places that I've read about and know that they are really worth exploring, but I actually did not get to them just yet.
Among such is a small town Banon known for its unique goat cheese.
Why is there no information about the Marseilles area?
The answer is simple – though I've been to Provence three times already, I did not get the chance to cover that Marseilles and everything around it. There are certain regions that I prefer to explore in a slow tempo, and Provence is definitely among them.
I do have my research ready, however, and am sharing some of the notes. Among some of the highlights of the trip to the South-West of Provence, there is Marseilles as well as the famous Calanques National Park – a series of picturesque rocky cliffs and bays. These are very tempting, but during my summer visits, and in the extreme heat, I found it simply unreasonable to go on a hike from the car parking to the water. The same goes for Camargue, a unique region with its horses, flamingoes, and the pink salt lakes. I am thinking about finding the time in autumn to head back and explore.
Cassis, on the other hand, at a certain point got to my shortlist of destinations, but then we were so exhausted from the long drive that we had to reschedule for the future. Many travelers speak highly of this destination, praising its picturesque promenade by the water, cozy cafes and the overall atmosphere.
Avignon and its castle is also on the list of things to do. It looks like a very logical stop on the way to Marseilles, as do Nimes and its Jardins de la Fontaine and Pont du Gard.
I am a Kyiv-based screenwriter with 10+ years of experience in producing scripts. I love my job, and no, I did not quit it to travel the world. I see different countries in my spare time. As a storyteller, I believe that it is the emotional journey that matters the most. This is why together with my sister I started this blog to encourage everyone to travel and to do so with a heart and mind opened to adventures.
I am a photographer based in Kyiv, Ukraine. I am lucky to be able to do what I love the most for a living. Photography is an endless source of inspiration for me. My mission on this blog is to inspire by sharing some of the favorite captions from my journeys. I also provide professional photography tips to help the readers bring home some beautiful photo memories.